Sunni Ali Ber
Sunni Ali Ber
Pastel Blue.
Our 8ml size is perfect for taking on trips for a touch-up or manicure, or trying out a new color! More than enough for 2-3 applications, depending on use.
Our nail lacquers are handmade in batches, there may be very slight variations in color due to the beauty of our handmade process.
Customer Reviews
Write a Review
Ask a Question
10/01/2020
Dinah S.
United States
Great color
it comes on smooth and looks great
07/31/2020
Kenya
United States
07/18/2020
Chanelle .
United States
Best Blue!
This is a beautiful sky blue shade, the polish is thick but it goes on smooth and lasted over a week before I started to see a chip in my nail color and it was only noticeable to me, no one would be able to see. These polishes out last dishes and everyday wear on polish, this is so worth trying they are the best. The picture I added is a week in a half after applying the polish and it still looks good with minimal wear!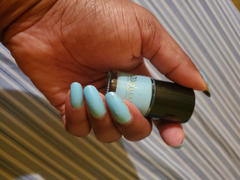 06/22/2020
Crista R.
United States
STUNNING!
I ordered the shades Sunni Ali Bar and Kaabu and they are absolutely GORGEOUS! The perfect summer colors. I can't wait to order more polishes!!!
05/19/2020
Amanda S.
United States
Perfect Color For Summer
This is, hands down, the best sky blue nail polish I've ever used. I've only had this on my hands for a day, but I can already tell it's an absolute winner. It only took two coats for it to be just as pigmented on my hand as it is in the photo, (which is usually not the case).