Sirius A
Sirius A
Inspiration: The Dogon are believed to be of Egyptian decent and their astronomical lore goes back thousands of years to 3200 BC. According to their traditions, the star Sirius has a companion star which is invisible to the human eye. The Importance of the Dogon hit the western world in 1930 when French anthropologists first heard legends from the Dogon priests. The legends were passed down through many generations and documented through artwork.
Our MINI 8ml travel sizes are perfect for travel, touch-ups, or trying out a fun shade you've never tried! Expect about 2 manicures, depending on use. This is a sample size. Want more? Get our normal 15ml size!
Our nail lacquers are handmade in batches, there may be very slight variations in color due to the beauty of our handmade process.
Customer Reviews
Write a Review
Ask a Question
02/11/2021
Dessah

United States
I recommend this product
So Sparkly!
1 coat was beautiful on its own. I went crazy and did 3 coats for full glitter coverage, giving it a whole new look. The color was a perfect mix! Not quite pink, not quite purple. It is such an interesting shade as a stand alone color. Over a base pink was beautiful too! I love it! My photos are at night, after wearing it for a week. So just imagine how pretty it is in the sunshine!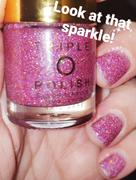 09/10/2020
Leanne F.

United States
I recommend this product
Soooo sparkly
This polish is such a vibrant and lovely color. I love there is a major difference between natural & unnatural light with this polish. When I'm inside, it looks more pink with gray glitter. Then I go outside and my nails become these gorgeous disco balls. The glitter becomes colorful and bright. I'm not sure how this happens, but I LOVE it. This polish makes my nails hard and strong! Definitely recommend.